The town of Cahors is the largest town we would usually visit during your stay at Perigord Retreats and flawlessly combines modern civilisation with historical preservation. The capital town of the Lot is built on a natural peninsula closed in on 3 sides by river Lot. 

Cahors wine
Most famous in modern times for exporting 'Cahors' wine varieties – predominantly Malbec, a dark, meaty type but also smaller quantities of Merlot and Tannat. The fruitier flavours are grown on the gravelly slopes from the river Lot. On the limestone plateaux above the slopes, you'll find the tannic, longer-lived wines.
A good Cahors can be compared to a good Bordeaux, but substantially cheaper due to the reputation of Bordeaux varieties. Fortunately (or unfortunately) there are several producers of Cahors wine who are successfully restoring the reputation to its medieval glory days. During this period of time, Cahors "black wine" was drunk throughout Europe by Popes, Emperors and Kings.
There are also some beautiful chateaux to visit, including Chateau du Cedre, Clos Triguedina or Chateau Lamartine, Mas del Perie. If you'd like to read more about the Chateau tours, follow this link.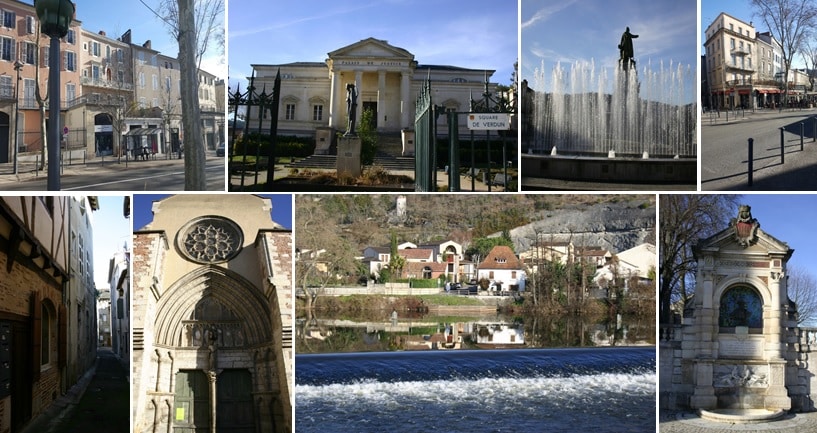 Markets
If you love local delicacies, you should schedule a visit to Cahors on a Wednesday or Saturday. The large market sells some delicious fruits and vegetables along with all of the tradition items you would expect. Also host to a large 'Vide grenier' which literally translates as 'empty attic' but functionally translates as car-boot sale. We can't think of a single guest who has left a vide-grenier empty handed!

Pont Valentré
is a bridge, which crosses the river Lot in Cahors. Construction began in 1308 but was not finished for another 70-odd years until 1380. From one perspective, 70 years is an awful long time to build a bridge, but on the other hand, it was completed during the 100 years war! The architect suffered greatly with this enormous project and legend has it he sold his soul to the devil who agreed to help him finish the job in any way possible. You'll hear the full story when we visit the bridge in person!
To explore more places along the river Lot, have a look at Saint Cirq Lapopie.