This blog post was last updated in June 2021.
Thinking about going to an art retreat in Europe or another part of the world? Maybe you're just thinking about painting whilst on a family holiday? It doesn't matter if you paint with acrylics, oils or watercolours. This post will prepare you for traveling with art supplies. 
Make sure you check out the bottom of this post for some great travel tips from some of our retreat leaders and artist friends referring to their specific disciplines.
Can I travel with my painting supplies?
The short answer is yes… Traveling with art supplies is possible… For the most part. 
Where it becomes complicated is the exact materials that you plan on bringing with you! For example, most airlines limit the amount of liquid that you can take in your carry on. Make sure you know for sure with the specific airlines you're taking and make sure that these liquids are in a sealed plastic bag.
Forget multiple brushes, top quality paper and special paints. TSA regulations and sealed bags are the most important things you need to know. Before you even think about opening your painting journal or sketchbook, you have to know how you're going to carry your stuff safely, cleanly, and effectively.
A couple of tips if you decide to bring your own liquids:
If security asks about your paints, make sure you let them know that they contain vegetable oils, not solvents and thus not hazardous.
Roxanne Steed makes an excellent point about terminology: "

Do be mindful of what you place in your carry-on bags. A palette knife (or two) and a pair of pliers of mine were left in Ireland with their TSA. And a palette knife is 'an artist's color spreader'. Never let the word 'knife' cross your lips!"

Make sure that your sharp objects are in the hold luggage, not hand luggage. Security will not hesitate to confiscate a utility knife used for cleaning palettes… It's not worth the hassle!
Original packaging – keep any items in their original packaging to serve as proof of the ingredients inside them. This one speaks for itself really!
Don't even try to bring any oil paint solvents on the flight. You're highly unlikely to be able to take any solvents on any flight because most of them are flammable. Not in your hand luggage or in your hold luggage.

 
Ok… So now you know how to pack… But what exactly do you pack?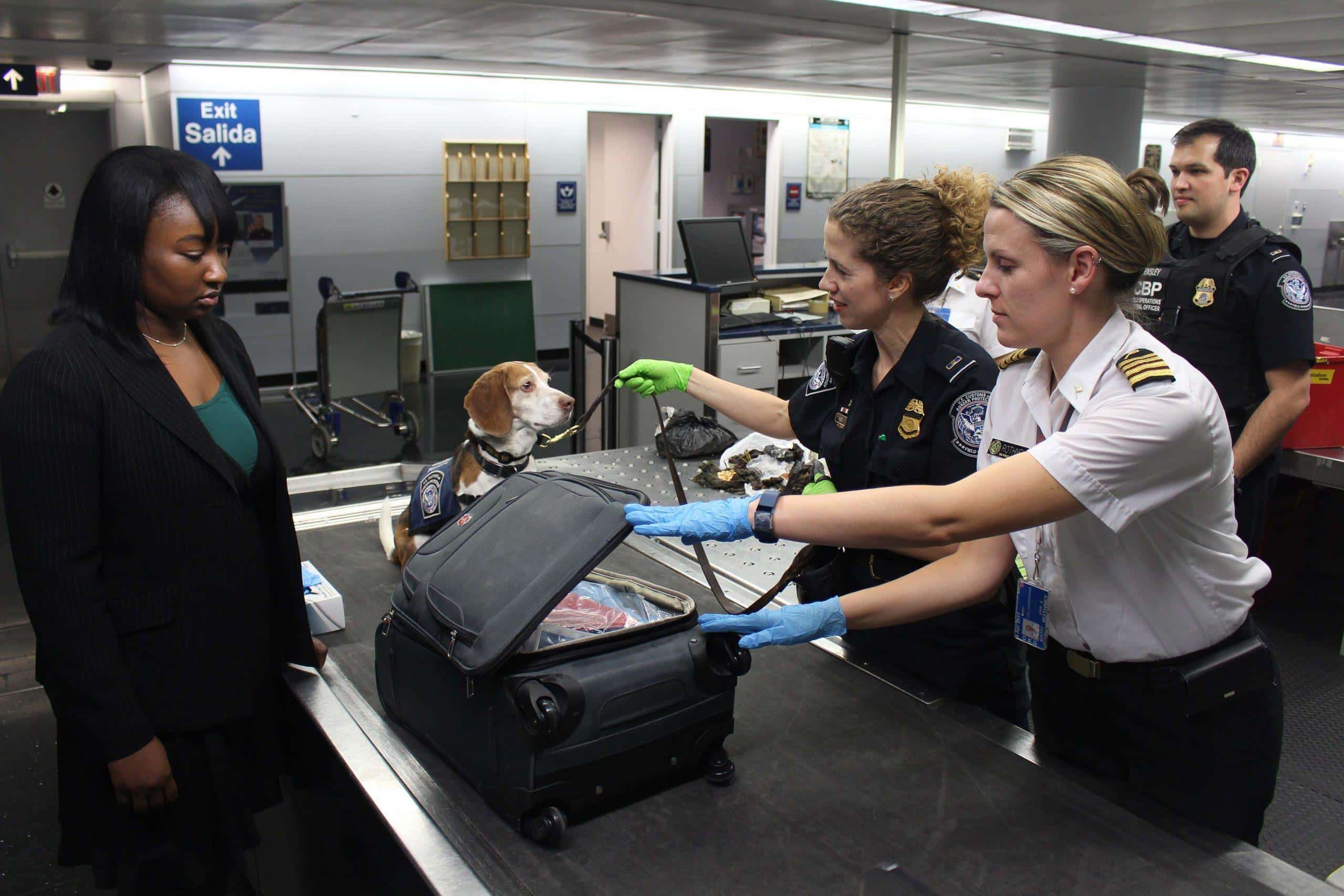 Consider your options
Some retreats are designed with one discipline in mind, but others are more open. What I mean is, do you want to lug around extra oil painting equipment when you could travel light with some watercolour stuff? 
Sure… Watercolours might be a bit more complicated but it's super simple to travel with and so easy to pick your stuff out and start painting en plein air. 
If you've got your heart set on painting with oils or acrylics, do you want to pack your own easel? Sure, you'll have an extra bit of familiarity but you'll also have some extra weight to drag across countries. If you don't want to carry the extra weight, have you thought about bringing an extra body to do the heavy lifting? 😉 (check out our blog about bringing a non-painting partner here).
If you do decide that traveling with art supplies is the right choice for you, keep it in your carry on luggage! You don't want your fragile materials being thrown around and getting damaged… Not the best way to start your painting retreat!
On that note, Renee Walden says "On my way out I pack at least some basic supplies in my carry on, so I can head sketching if my baggage doesn't arrive (has happened!) On my way home, I always have my finished sketchbooks and paintings in my carry on and I watch my bag like a hawk. I'd rather lose my passport".
But, Lee Kellogg warns "If you fly with Sakura Micron pens, fountain pens, or many other pens- don't pack them in your suit case. Carry on in their own plastic bag and have them upright as much as possible. Especially during take off and landing."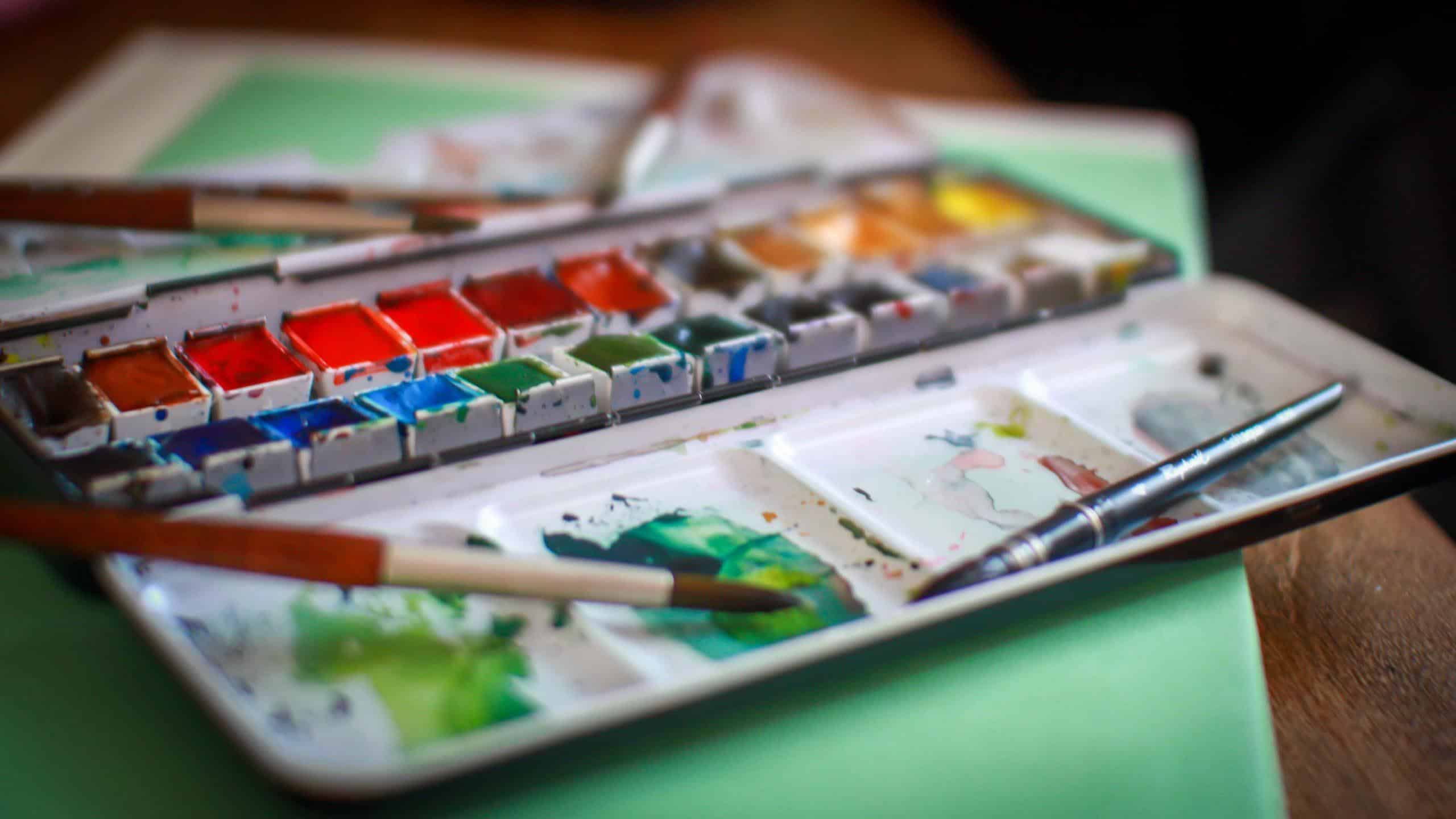 The better question would be… Do you even want to travel with your painting supplies?
Apart from the smaller, more personalised stuff such as your paintbrushes, it can be quite a hassle to travel to another country dragging a bag full of painting equipment with you! Ev Hales advocates the philosophy that 'less is more' – giving you a good reason to visit the local art store in case you forget anything important. 
In our studio, we have our own painting supplies that are available for all retreat attendees. Throughout any retreat you'll have access to:
Portable oil painting easels
Portable watercolor easels
Tabletop easels for use in the studio
Paintbrush cleaner
Our paintbrush cleaner is a safer, natural alternative to turpentine that actually smells like lavender and contains no carcinogenic fumes. With over 1500 lavender plants in our back-field, we distil our own lavender for exactly this purpose. (You can read about our lavender here).
We also offer extra service on a group basis. When required, we will purchase an entire set of paints, brushes and any other equipment you require and get it delivered directly to our address (from our trusted supplier). This will save the time you need to prepare your own equipment and the effort required to travel all the way to France whilst carrying your equipment. 
Of course, if you're quite particular about branded supplies, Debra Kierce recommends that you "Ship them ahead so you don't have to travel with them. Put a return label in the box. Then repack them in the same box and send them home to yourself".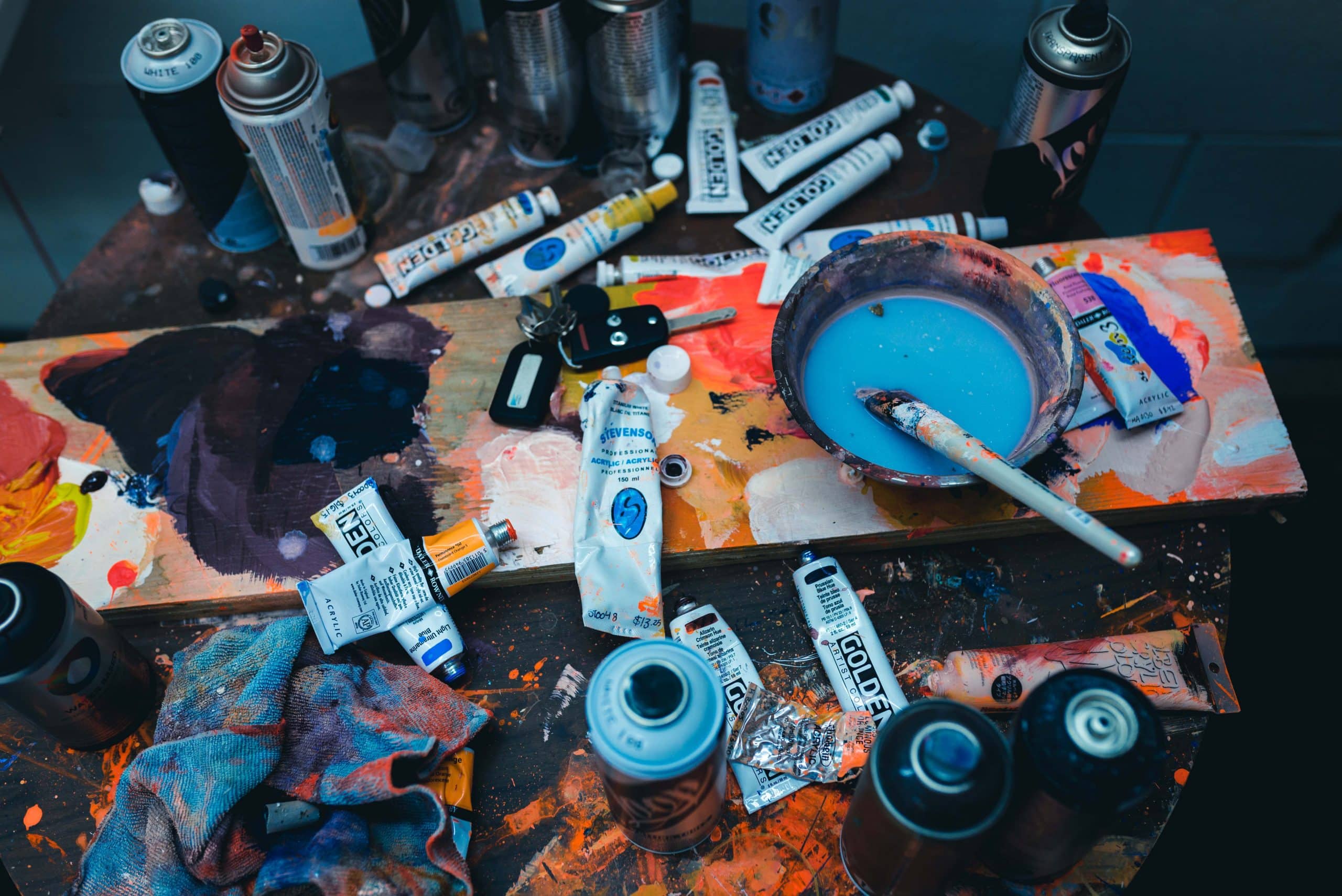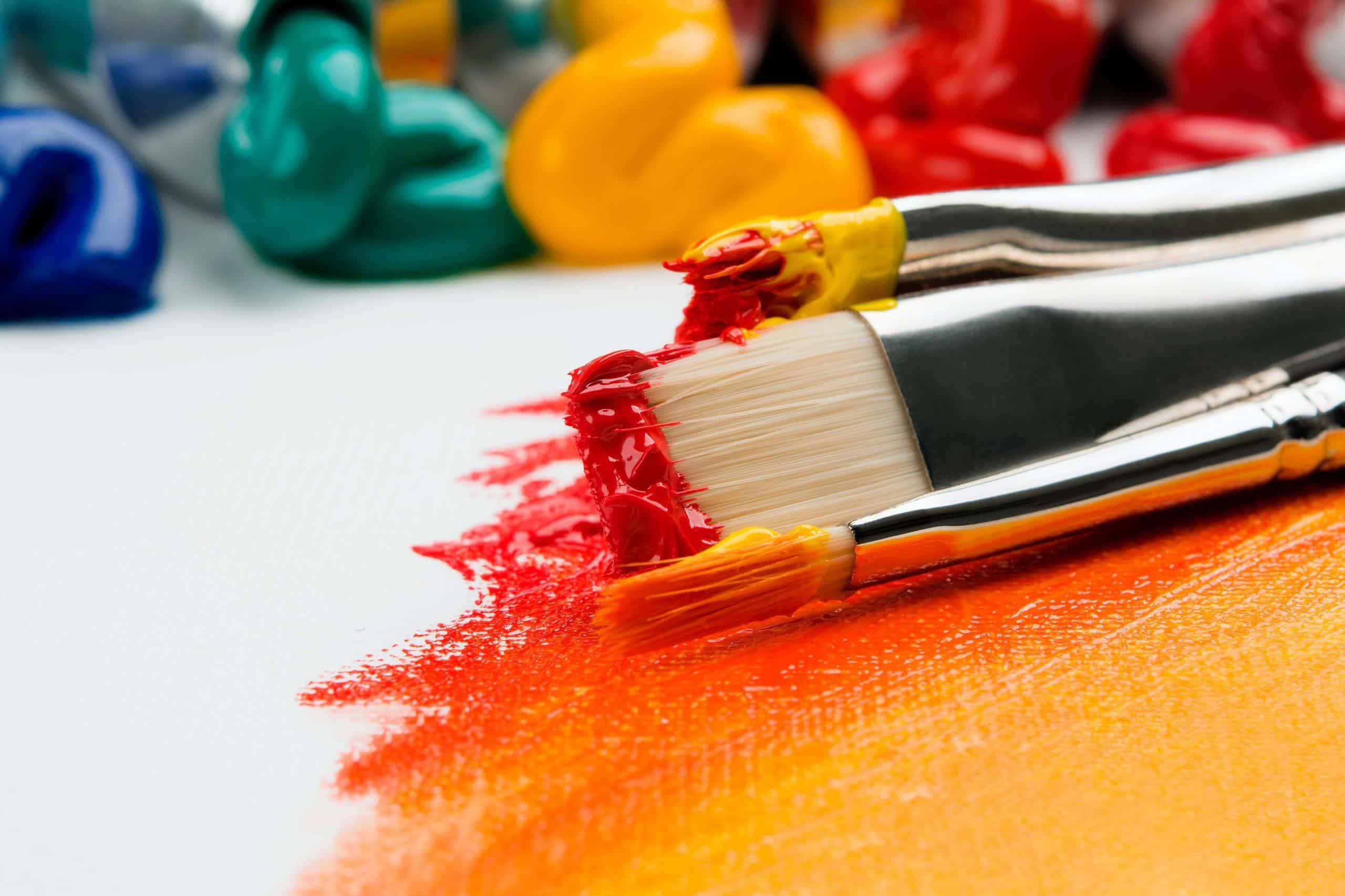 Conclusion
Yes… You can travel with most of your painting supplies. 
Jill Madgwick makes an excellent point about simplicity: "keep it simple; watercolour pencils, water pens, a good quality sketching block and plenty of suncream … enjoy yourself" – after all, the primary objective when painting is to ENJOY 😀. 
Terry Jarvis also reiterates thoughts on simplicity: "Cull, cull, cull, and cull again. Keep it simple with the essentials, it's going to be light to carry, easy and quick to set up and pack up. The upshot is that it will improve your practice if you are working with essentials and problem solving and creating from that foundation."
Just make sure you're organised in advance and know the regulations of the airlines you're travelling with. If you're joining us for a retreat, we're always happy to have supplies delivered directly to our address, which will save some physical effort on your end. If you're going to a retreat somewhere else, it might be a good idea to reach out and see what supplies they provide and what supplies they're happy to order for you.