Sarlat la Canèda
Perigord Noir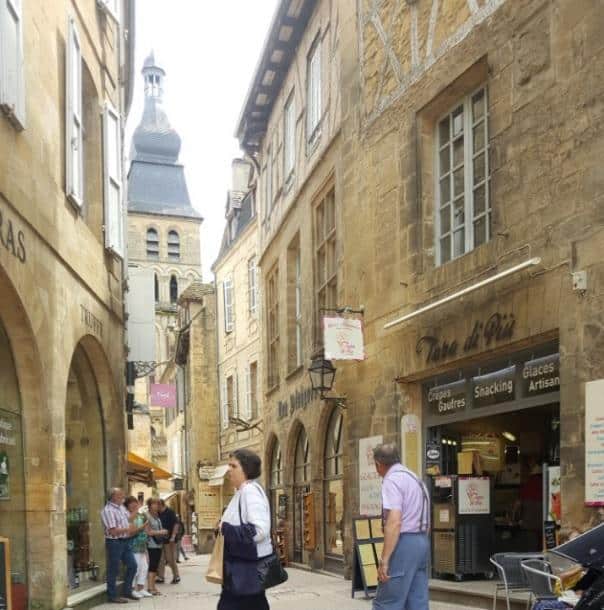 Location and preservation
35 minutes north of Perigord Retreats is a medieval town, which developed around a large Benedictine abbey and Cathedral, Sarlat la Caneda. The town has been beautifully kept in a medieval style due to the local affinity for preserving history. Sarlat-la-Canedà is widely considered as one of the most representative towns of 14th Century France and has been shortlisted as a potential UNESCO world heritage site.
Sarlat la Canèda Markets
Wednesday and Saturday mornings bring a traditional market full of quirky stalls selling locally made collectibles and a wide variety of locally produced foie gras, honey, jam, marmalades and walnuts, amongst a whole host of other interesting stalls and food stands. You are sure to feel as though you have stepped back in time.
Walking through the polished cobbled streets, your senses will be enticed by the smell of freshly cooked local cuisine flowing. Meanwhile, your eyes wander through the beautiful Perigordian style buildings and talented street performers. The main square in the summer months always has a brilliant atmosphere of happy tourists enjoying the old style of the town. There are several lovely restaurants to eat in and the old church at the end is truly joyful to 
Movies
Only Paris and Nice have hosted more films being shot than Sarlat-la-Caneda . The town lends itself to a variety of films because it is built in the medieval style. Furthermore, it is surrounded by surreal countryside and the beautiful Dordogne river is only 5 minutes away.
Unfortunately, you're unlikely to have heard of many of them. In 1997 the french version of Cinderella was filmed there. After 5 minutes of wandering around the town centre – you'll understand why. To see a larger list of films shot here, follow this link. Or to read about some of our other excursions click here.