Castelnaud la Chapelle
Perigord Noir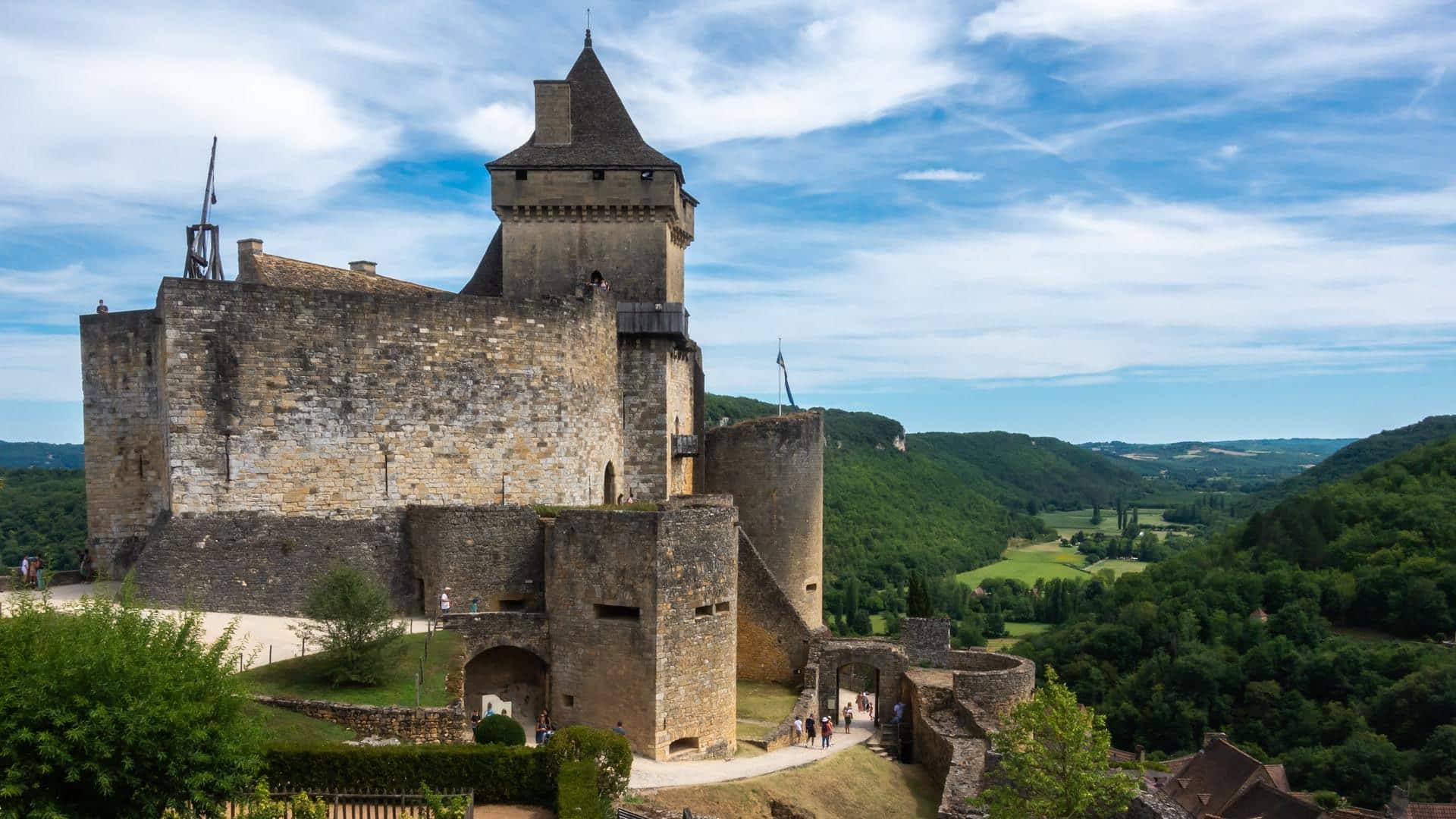 History: Castelnaud la Chapelle
Castelnaud la Chapelle is 1 mile upstream from Beynac Castle. At one point, they even had the same owner (Simon de Montfort). This castle also has over 900 years of history!
Throughout its history, it was often owned by the english, especially during the 100 Years War. However, King Charles VII ordered a seige in the mid 1400s,  which helped France recapture the castle definitively.
During the 17th century it was rarely occupied (the owners moved into a new castle just under a mile away, Chateau des Milandes). It was abandoned during the French Revolution and even served as a stone quarry during the 1800s… Can you believe that!! 
Historically, the Dordogne River was the border between England and France.
The journey
On the way to Castelnaud la Chapelle we are lucky enough to go past many interesting sites in a short space of time. There is a 13th century Abbey, sunflower fields and a couple of incredibly small yet well-preserved medieval villages. We drive along side a small creek with the clearest water you've seen in your life… There's a beautiful little bridge just before we get to Castelnaud la Chapelle, it's a great photo opportunity!
Visiting & Painting Castelnaud la Chapelle
Depending on your level of motivation, we can either drop you off at the top of the village by the Castle, or leave you to paint en plein air at the bottom of the village by the river. 
If we drop you off at the top, you can take photos, visit the castle and stroll down the hill, through the village and eventually down to the bridge at the river. There are some beautiful scenes to paint (or photograph).
Otherwise, we can leave you at the bottom of the village where you can sit in the shade with a drink and watch the world go by. Or, you can take out your brushes and sit in the shade painting the breathtaking scenery in front of you. Many of our guests adore this village, it's really one to remember!