Workshop Dates : 16/07/2021 – 25/07/2021
Workshop Leader: Nina Weiss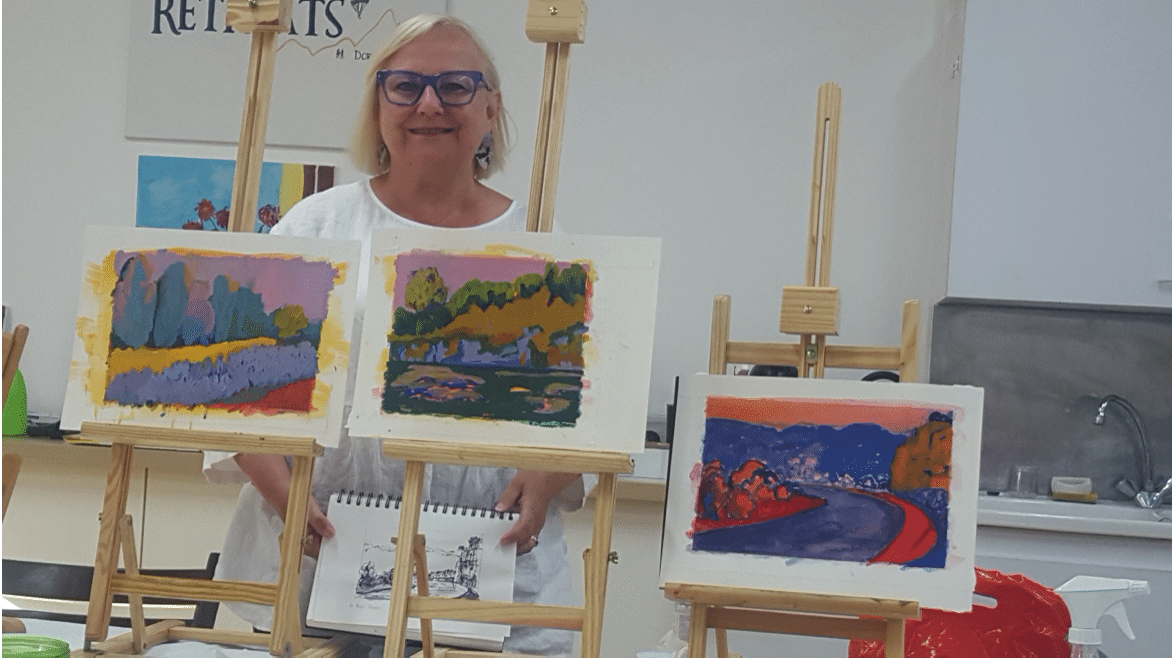 Workshop Details
Join Nina Weiss (website) this summer in France for the experience of a lifetime! Situated in the peaceful countryside adjacent to a tiny hamlet; Perigord Retreats offers so much! Beautiful landscapes, comfotable, cozy accommodations; a fully equipped indoor studio available 24/7, lovingly crafted food of local origin, an indoor swimming pool, and excursions into the stunning landscapes and medieval towns of the Dordogne and Lot regions.  
Your 10 days will be a beautiful blend of studio time, delightful excursions, cultural experiences and of course, plenty of free time to rest and explore!  You will travel into the lovely countryside to paint and visit some of the most scenic towns in Southern France. You will spend time painting and picnicking along the Dordogne River and throughout the valley.  Other options include kayaking, swimming in the river, hiking, taking a swim in the indoor pool, relaxing in a hammock on the grounds or shopping in the many markets and shops.  
Wake up in the peace and quiet of the French countryside! After a fresh and healthy breakfast, your day may include a slide lecture on the History of Landscape Painting, Color in the Landscape, or other formal aspects of landscape painting.  We will combine work in the studio, lecture, demo, critique, and plein-air work in the field to enhance your painting experience.  Delicious on-site picnics and lunches in the fields keep us well fed and inspired!
The Workshop will begin with black and white compositional exercises, and progress into full color usage as we explore the landscapes around us. Students can choose to work in colored pencil; pastel, watercolor, gouache, oils, or acrylics. Individual instruction on technique for all mediums is available. Students will learn how to capture their own personal visions from the landscape by studying elements of composition.  Emphasis on color, composition, mark-making and surface will help guide students to successful landscape paintings and drawings.
About Nina Weiss – In Her Words
My study and love of art has been a life-long passion. I grew up outside New York City and was lucky to be able to take advantage of Manhattan's cultural offerings.  Some of my earliest memories are from this time; pausing on the ramp at the Guggenheim Museum, pondering an abstract painting in a gallery on Madison Ave, and playing with early color wheel.   My parents encouraged my artistic exploration by providing me with plenty of art supplies,  including  rolls of white paper from the examining tables in my father's medical center.  We drew murals on the floor with crayons.  Later, I spent afternoons after high school drawing happily at my desk, copying master works and illustrations.
Eventually, I turned my attention to creating huge copies in oil of my favorite rock albums.  I signed up for my first painting lesson at age eleven at the Roslyn School of Painting on Long Island, and at age thirteen began taking the train into Manhattan every Saturday to study life drawing at the Art Student League.  I attended a pre-college summer session at the Rhode Island School of Design, and then skipped my last year of high school to begin my freshman year at the Tyler School of Art in Philadelphia.  I have always had strong reactions to color, and drew inspiration from hours of study of the Expressionist Movement.  I have melded this love of emotive color with landscape as subject matter.  
When I moved from the East Coast to the Midwest to attend Graduate School, the horizons of the Midwestern landscape inspired me.  I began biking with my camera, taking photos for use and reference in my studio.  Travel is the twin passion accompanying my lust for landscape.  Travel presents me with new landscapes and opportunities to create. Now, as an artist, teacher, and mother I am even more excited than ever to follow and pursue my artistic path.  
Thanks for coming with me!
If you're interested in this workshop, please complete the form below to access more information.