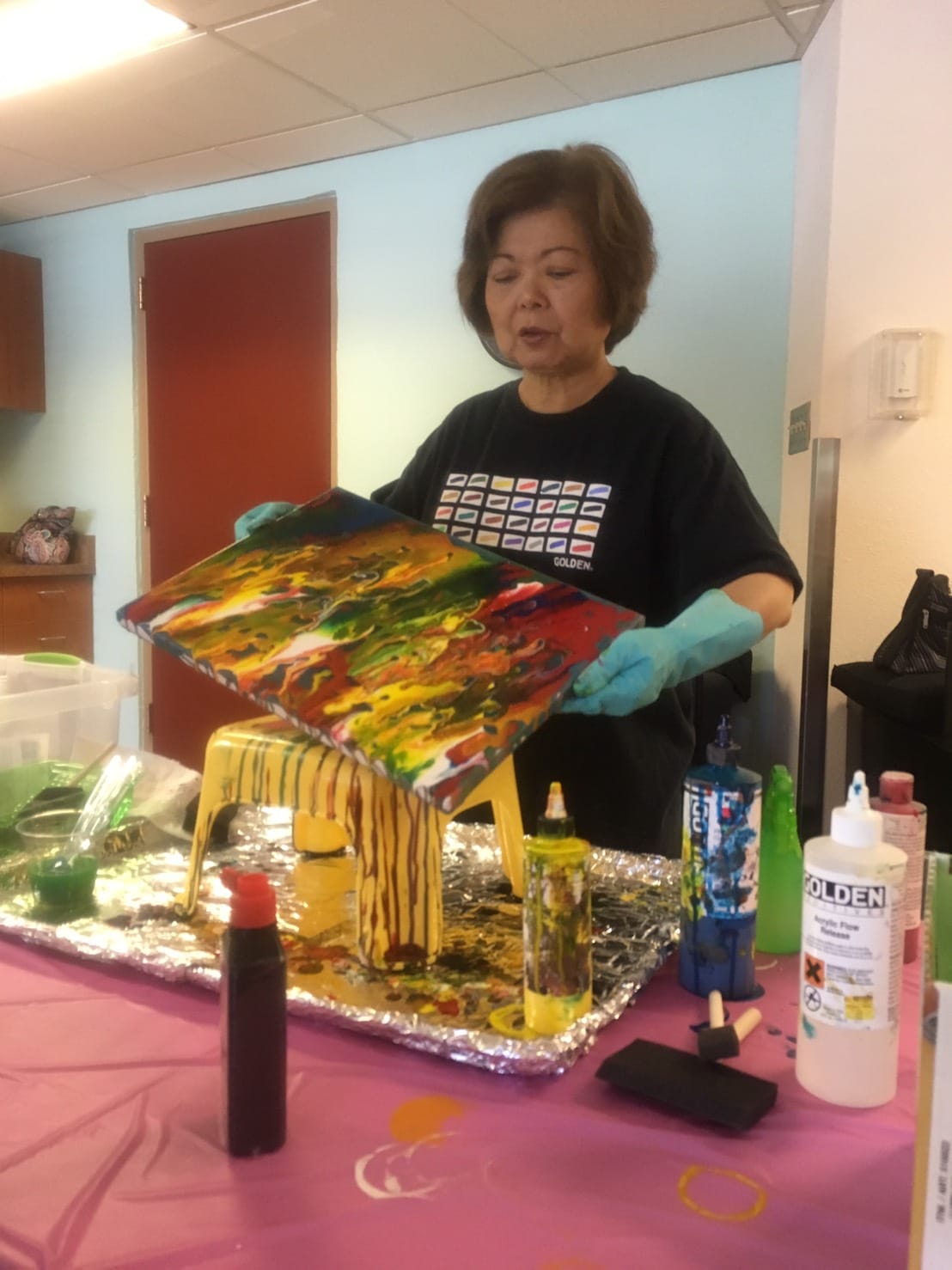 Ming Franz specializes in Splash Color painting which combines watercolor and Acrylic with Chinese ink and brush. She received her basic art training in Taiwan and has continued her art in the United States. 
Ming Franz received numerous awards, she was the grand prize winner of International Artist magazine challenge No.86 Abstract/experimental Art. Shibuya Award from Sumi-e Society of America, Creative design award from Pampered Platte Society. People's choice award from Los Alamos Fuller Lodge Art Center. Nominated for Local Treasure this year.
The foundation of Splash ink and color painting process is based on principles originating in Tang Dynasty China with a technique known as Po Mo. Essentially the artist freely "splashes" liquid color onto stacks of dampened sheets of mulberry paper. After the wet sheets are left to dry for several hours, they are separated so the real magic can begin: discovering if the resulting dried sheets are abstracts able to stand on their own, or if they can be enhanced with more paint, whatever the imagination sees in the heart of the work!
She teaches workshops and conducts demonstrations at the New Mexico Art League, UNM continuing Education, Fuller Lodge Art Center, Artisan Santa Fe, New Mexico Watercolor Society. She also teaches nationally at Artist's Expo, Houston, TX, Wichita, KS, and Chicago, IL. Silicon Valley Asian Art Center, CA, Denver Fine Art Museum, Co. Artisan Materials Expo. Santa Fe, NM. World of Color Expo, VA. Pacific NW Art school, WA. Judge of National Watercolor Society of Alabama. She will be teaching a workshop at Master work Albuquerque, at La Romita art School in Umbria, Italy and Perigord–Retreats at Dordogne, France 2019.
Franz is the author of Splash Ink with Watercolor and has had her work published in International Artist Magazine, American Art collector, Southwest Art Magazine, Acrylic Illumination, North Light Books, Studio Visit Magazine, Kennedy Publishing CO. Blaze Hill Press, Albuquerque Journal, Mountain View Telegraph, Asian World Journal, and Rainbow Magazine (Taiwan)
 Franz is a Signature Member of the New Mexico Watercolor Society and is a Golden Paint Co. Certified Artist and Educator. Judge for National Watercolor Society of Alabama.
Her website: www.mingfranzstudio.com.
Please complete this form for more information on this painting holiday.