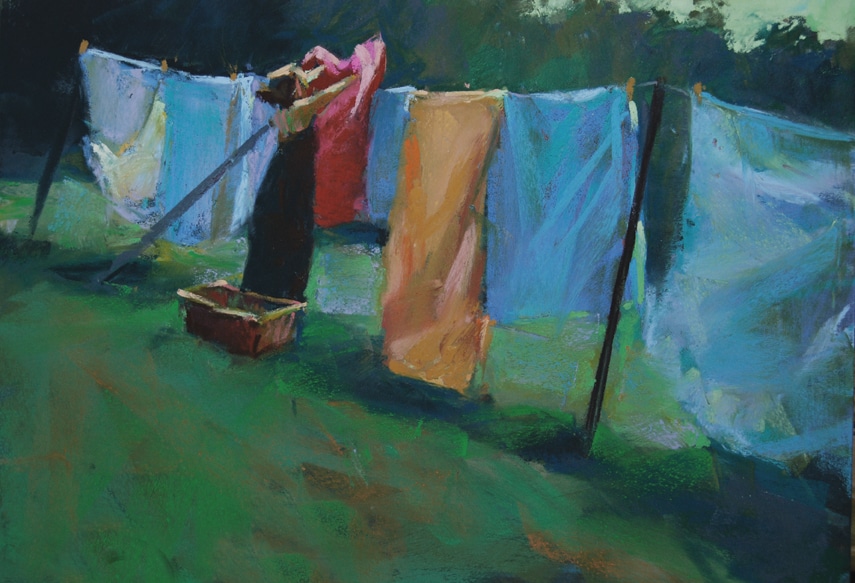 About Margaret Dyer
In Margaret's workshops students are taught traditional oil and pastel painting techniques. Working with live models and from photos taken during the class, students will explore drawing, composition, anatomy, proportion, value, color and pastel and/or oil application. Emphasis will be on developing form using light and shadow using Margaret's easy step-by-step method. For those who are bewildered by color or are wanting to speed up and become less tight in their work, this is an excellent class to take. 
Margaret is the recent recipient of the Best Impressionist Painting Award at the National Oil and Acrylic Painters Society (NOAPS) exhibition. She is a Master Pastelist with the Pastel Society of America, and she is in the Masters Circle of the International Association of Pastel Societies. Her work has been published in American Artist, International Artist, The Artist's Magazine, Pastel Artist International and the Pastel Journal.
Originally from Long Island, New York, Margaret lives and paints in Atlanta, Georgia, her home base as she travels to teach workshops across the USA, in France and Italy.
Contact us for more information on this painting holiday.
PUBLICATIONS 
The Pastel Journal, January/February, 2019, 20th Anniversary Artists to Watch The Artists Magazine, 30th Annual Competition, December, 2013 The Pastel Journal, January/February, 2011 American Artist 2010 Cover Competition Finalist, July 2010 "Pure Color: The Best of Pastels," a publication of North Light, 2006 Pastel Journal, "Margaret Dyer" Featured Artist, p 35-40, December, 2005 International Artist, "3 Steps to Dynamic Design in Pastel," June/July, 2005 "How Did You Paint That? 100 Ways to Paint Figures," Volume 2, 2005 "Pastel Highlights 2," a publication of American Artist, 2004 "How Did You Paint That? 100 Ways to Paint Figures," Volume 1, 2004 International Artist, 2nd Place Award, August/September, 2003 International Artist, "Master Pastelists of the World: USA," September, 2002 Woolwich, M., The Artist's Magazine, Featured Artist, p 42-45, June, 2002 The Pastel Journal, "The 3rd Annual Pastel 100 Winners", Mar./Apr., 2002, Willard, C., American Artist, "Layering Pastels", p 12-14, June 2001 The Pastel Journal, "The 2nd Annual Pastel 100 Winners", Mar./Apr., 2001 Pastel Artist International, "Color for the Color-Challenged", p 46-53, Jan./Feb., 2001 The Pastel Journal, "The 1st Annual Pastel 100 Winners", Mar./Apr., 2000 Woolwich, M., The Pastel Journal, p 30, May/Jun., 1999 
WORKSHOP INSTRUCTOR 
Alabama Pastel Society Amelia Island Workshops, Fernandina Beach, FL Appalachian Pastel Society Art Center of Morro Bay, Morro Bay, CA Art in the Open 2013, Wexford, Ireland Art of the Carolinas, Raleigh, NC Art League of Daytona Beach, Daytona Beach, FL, Art League of the Sandhills, Aberdeen, NC Art of the Carolinas, Raleigh, NC Artensity Workshops, Ann Arbor, MI & Florence, Italy Association of Visual Artists, Chattanooga, TN Austin Pastel Society, Austin, TX The Bascom Center, Highlands, NC The Baylor School, Chattanooga, TN Bonita Springs Art Center, Bonita Springs, FL Booth Museum, Cartersville, GA Chastain Art Center, Atlanta, GA Chicago Pastel Painters, Chicago, IL Connecticut Pastel Society, Old Lyme, CT Crealde Art Center, Winter Park, FL Creative Arts Center, Chatham, MA Crooked Tree Art Center, Petoskey, MI Dakota Art Center, Mt. Vernon, WA Degas Pastel Society, New Orleans, LA Easton Studio & School, Easton, MD Hudson River Valley Art Workshops, Greenville, NY The Huntsville Art League, Huntsville, AL International Assoc.Pastel Societies, Albuquerque, NM La Bonne Etoile, Fontaine-Fourches, France Maryland Pastel Society Pastel Painters of Cape Cod Pastel Society of Eastern Canada, Toronto Pastel Society of Quebec, Montreal Pastel Society of the Southwest Pastel Society of Vermont Richeson School of Art, Kimberly, WI Scottsdale Artists School, Scottsdale, AZ Sedona Arts Center, Sedona, AZ Southeastern Pastel Society, Atlanta, GA Southwest Florida Pastel Society Spruill Art Center, Atlanta, GA Terry Ludwig Studio, Littleton, CO Wenmohs Ranch Studio, Cypress Mills, TX Wethersfield Art Center, Wethersfield, CT Willow Wisp Art Studios, Asheville, NC