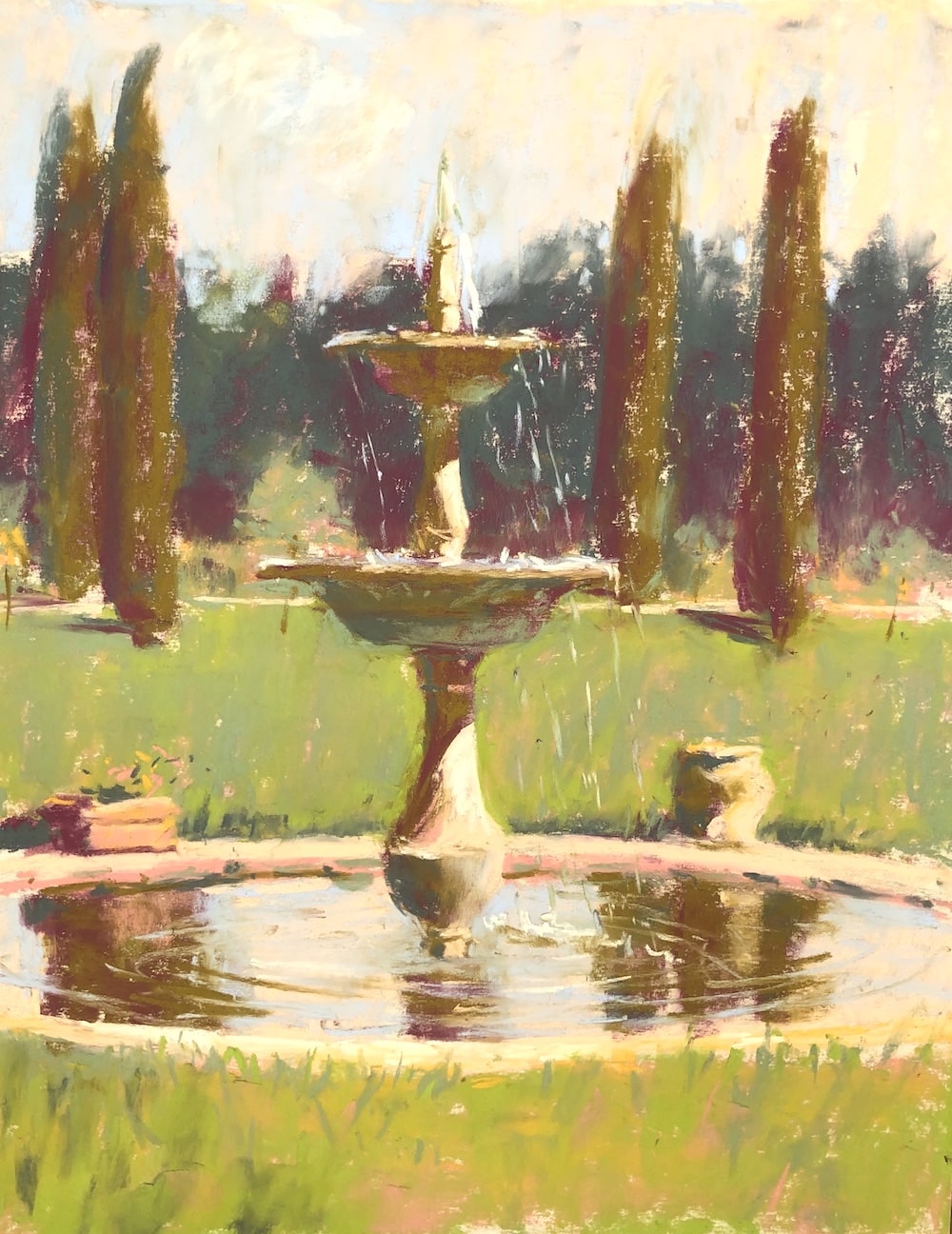 In this crazy, busy world, sometimes what we need is a time and place to slow down and refresh our creative soul and this 10-day painting retreat in the French landscape of the Dordogne (one of my favourite areas of France!) fits the bill! With everything taken care of by Angela and Adrian (beautiful accommodations, delicious meals, inspiring excursions), all you need to do is learn, paint, and enjoy!
My goal during this workshop will be to help you develop your confidence and skill in being able to capture some vital part of the landscape that speaks to you. I also want to help you develop your style and bring forth your voice fully.
There's nothing easy about painting on location – it is a challenge! – but there's nothing quite like it for learning how to paint better and for feeling vibrantly alive! Painting "en plein air" means being fully present to the experience of painting on location. As you observe and paint, every sight, sound, smell, and experience in the environment becomes part of your painting. That's part of the joy that comes with working from life rather than a photo. Working en plein air creates a deeper connection with your environment – you will always remember the experience when you look at your sketch or painting. Slowing down and taking the time to observe and respond is what we do as artists to help others see what we see.
There are so many possibilities to paint!! How do I choose?? We'll go through a process of creating a painting en plein air step-by-step, from selecting what you're going to paint, to simplifying the scene, to drawing up a thumbnail (a getting-to-know-you tool which also shapes a value pattern for your painting as well as a powerful composition), to blocking in the big shapes, to colour choices, and finally, to building the painting towards its end.
We'll go over the importance of understanding values and how this knowledge can liberate your use of colour and personal interpretation of a scene. All aspects of what goes into creating a successful plein air painting will be covered including perspective (linear and aerial), composition, colour choices, dominance, and edges.
And we'll be doing it all in pastels! With this versatile medium, we can make quick, energetic sketches or more fully realized paintings. I'll give lots of one-on-one guidance on location and in the studio. I'll teach daily and provide demos as needed.
We'll also gather as a group at the end of the day to discuss the day's paintings, perhaps over a glass of wine. Each day will offer us a different location whether a riverscape, a corner of a village, a medieval castle, a roman ruin, a busy market, or a rolling landscape.
My teaching style is to pass on what I know while at the same time encouraging the complete emergence of your own voice. It's all easy-going and supportive with plenty of room for laughter and fun!
The workshop is suitable for all levels but some experience with drawing and soft pastels is required.
Can't wait to meet you in the gentle embrace of The Dordogne!
In this Holiday Painting Workshop you will:
Create thumbnails and come to understand their importance in making a strong painting

Develop intentionality in painting

Learn how to use a limited palette expressively

Explore ways to make bold colour choices

Discover what makes a powerful composition

Experiment with underpainting colours as a way to change the mood and feel of a painting

Dive into application techniques and mark-making

Become more confident painting en plein air

Have a better understanding of linear perspective

Become more confident about expressing your own artistic voice

Be supported to respond from your heart and soul
A SAMPLING OF LOVE NOTES from holiday painting workshop students
Gail offers excellent instruction and positive reinforcement in a calm and sometimes funny way. I think my colleagues in the session who were more experienced felt the same way.  Do it!
~ Jody T
Gail is a warm and generous teacher. She has a structured style which ensures that when the steps are followed you get results! Whilst Plein Air painting, Gail constantly checked on each pupil and gave constructive advice. Her daily review of our work was a valuable critique and she was always available for individual tutoring.
~ Christine L
I am eternally grateful for your teachings during our art workshop in Tuscany. With very little experience in Plein Air painting I had always been completely overwhelmed when it came to painting outdoors and by trying to paint everything, all I was left with was a muddy jumble. Your approach made it completely doable. I can see such an improvement in my art. I enjoyed the one on one assistance at the easel and your constructive critiques and explanations. I can highly recommend your workshops for artists of all levels.
~ Val W
Gail, it was an honor to meet you…you are exactly what I expected and more.  You helped me discover that I don't give myself enough credit for the skills I have. You are definitely right, plein air is a unique experience. I've become more in tune with the environment. The leaves on the trees, bark on the trunk, jagged edges of rock, the choppiness of wave…you truly study them. You helped me translate that energy with my marks and strokes, into something stunning. The painting holiday workshop was delightful, Gail. I would do it all over again.
~ Sue S
BIO
Gail Sibley is a popular workshop instructor and has been a professional artist for more than 25 years. She delights in the experience of painting from life, whether a landscape en plein air, or a still life in studio. Her work is characterized by bold colour achieved with a limited palette.
A traveller at heart, Gail offers workshops internationally with a focus on how understanding values leads to freedom with colour. She guides participants to hone their unique artistic voice and gives strategies for dealing with negative self-judgement.
Born and brought up in Jamaica, Gail Sibley moved to Canada to complete a BFA (Fine Arts) followed by a MA in art history. Yearning to create, she then returned to painting after university. Experimenting with a small box of pastels, Gail was hooked by their vibrancy, immediacy, and luminosity.
Gail participates in national and international juried shows and has won various awards including the Grand Prize for Painting On The Edge (POTE), an annual international juried exhibition at the Federation Gallery in Vancouver. Her work is in private and corporate collections in several countries. She is a Signature Member with the Pastel Society of America (PSA) and a Master Pastellist with Pastel Artists Canada (MPAC).
Gail shares her knowledge and that of others in a highly-regarded blog at HowToPastel.com and can be seen on YouTube at youtube.com/GailSibley. She also offers online courses. Gail was a primary contributor to the recently published book, DK's Artist's Drawing Techniques (August 2017).
Gail lives in Victoria, BC, Canada with her partner Cam in a 1910 character home.