Join me at Perigord Retreats for a relaxing, inspiring and invigorating art experience!  You will be inspired by the French countryside and culture.  You will be energized while creating expressive works in pastel of flowers, water gardens and fields of lavender and sunflowers.  
We will tour the Dordogne region and surrounding area of Perigord.  We will draw and create small studies on site at various locations such as Les Jardins d'eau and the village and gardens of La Roque-Gageac and more.  Special emphasis for my workshop will be placed on gardens of France.  
My workshops are suitable for the beginner and advanced artist working in soft pastel. 
Artists wishing to work in other media are welcome to attend.  We will begin each day in the studio with short warm up exercises and demonstrations before venturing out to sketch and create small studies on site.  We will return to the studio in the afternoon for extended working time, guided learning and individual assistance and critiques.  Each day will include time to experience the beautiful surroundings for inspiration and studio time to explore and create your interpretations of gardens, landscapes and French villages.  
I strive to create an open, non-threatening and fun environment where all can feel successful.  Artists who have attended have stated that I created a wonderful workshop atmosphere where they felt successful.  They came away with a solid understanding of how to proceed on their own.  They enjoy the pacing of the workshop and the gradual development of skill building.  
What you will learn and experience in my workshop:
You will learn drawing techniques to develop abstract realistic subjects like gardens, landscape and French villages.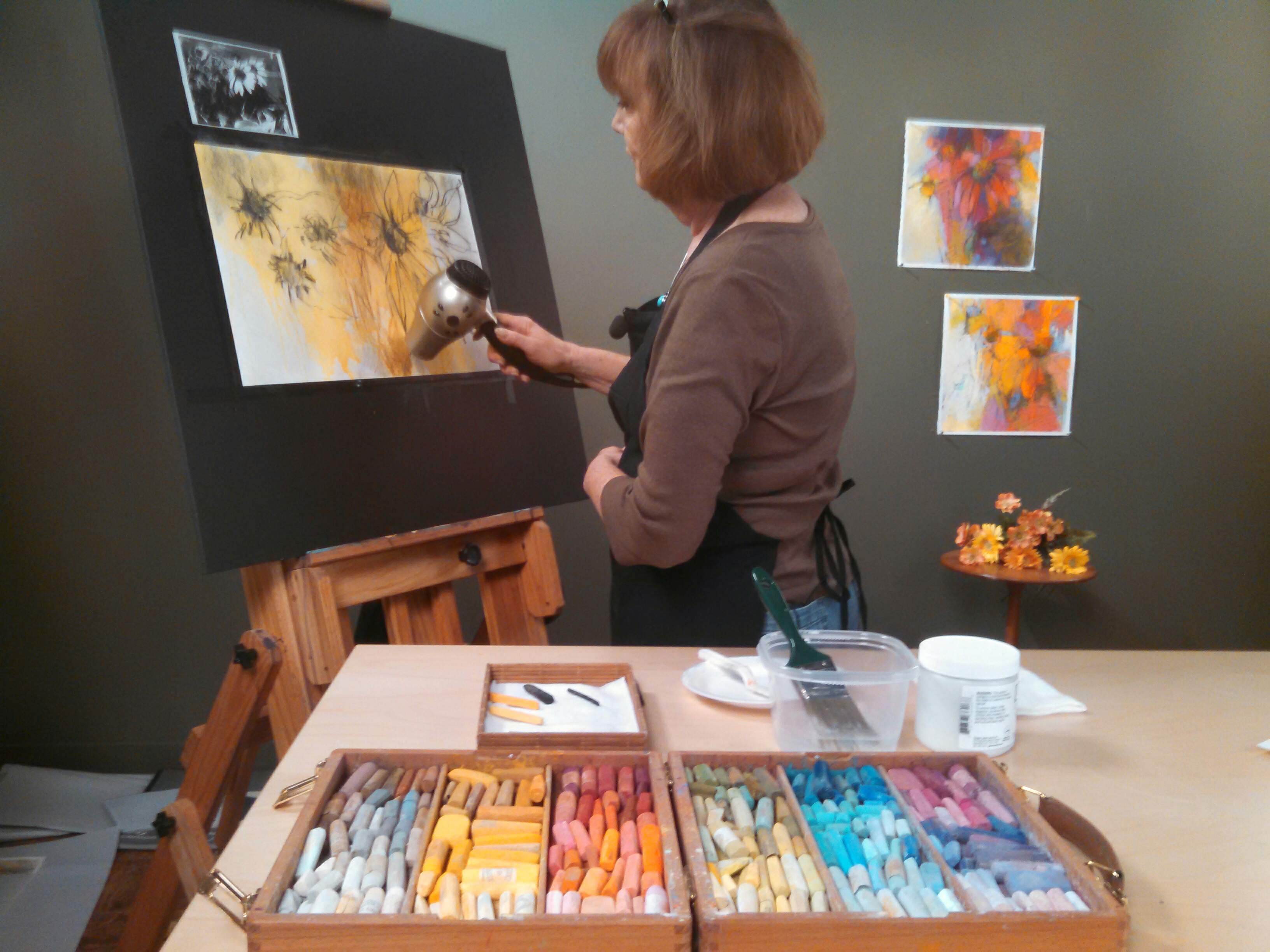 You will create small pastel color studies in various locations to use for larger works.  
You will learn expressive drawing and pastel techniques to assist you in loosening up your style.
You will use abstract underpainting to create more expressive realistic subjects. 
You will create larger works in the studio based on your plein air drawings and color studies.
You will leave the workshop with a collection of inspiring studies and complete works that capture the magic of the Perigord region.  
Suggested materials include:
An assortment of artist grade soft pastels such as Sennelier, Unison, Richeson, Girault, etc.  Please bring an assortment of at least 60 soft pastels that includes grays and earthtones.  I also recommend traveling with a good wooden box for storage such as Heilman or Dakota pastel box.  A small box will hold many pastels for travel.  
Generals Compressed Charcoal.  
Charvin Watersoluable pastels or hard pastels like Nupastel or Creatacolor.
Sketchbook and graphite pencil or charcoal pencil for drawing on site.
Sanded paper like Uart or Pastel Premier.  Bring a small pad for creating color studies on site and a larger pad for larger works.  Bring whatever you can fit in your checked bag.  Some pads already have glassine between the sheets for storage.  
A medium or large flat brush for the underpainting process
Debora L. Stewart
Debora L. Stewart is a Signature Member and Master Pastelist of the Pastel Society of America and a member of the Master's Circle of the International Association of Pastel Societies.  Her pastels have won awards from Pastel Journal Magazine, International Artist Magazine and the Pastel Society of America.  Her work has been included in many national and international juried exhibitions.  She exhibited in the pastel invitational exhibit Pastel en Perigord, St. Aulaye, France July of 2016.  She has also been a featured artist in the French magazine Pratique des Artes July 2018.   Her work was also included in the Third Biennial China Pastel Exhibit at the Ming Gallery of Art in Suzhou, China.  
Debora works in both soft pastel and acrylic mixed media on canvas.  She is inspired by nature.  Drawings, marks and colors used reflect gardens, flowers and specific places.  Works range from semi-realistic interpretations to non-objective works.  
Debora has taught abstract workshops extensively throughout the U.S. She is a sought after instructor by pastel societies, art guilds and schools.  She is the author of Abstract Art Painting:  Expressions in Mixed Media published by Northlight Books in 2015 in addition to a series of teaching videos.  She has served as a judge for artist competitions in Pastel Journal Magazine and pastel societies in the U.S.  
Debora is represented by galleries throughout the United States.    
Contact us for more information on this painting holiday.