Watercolor Painting/ Sketching & Journaling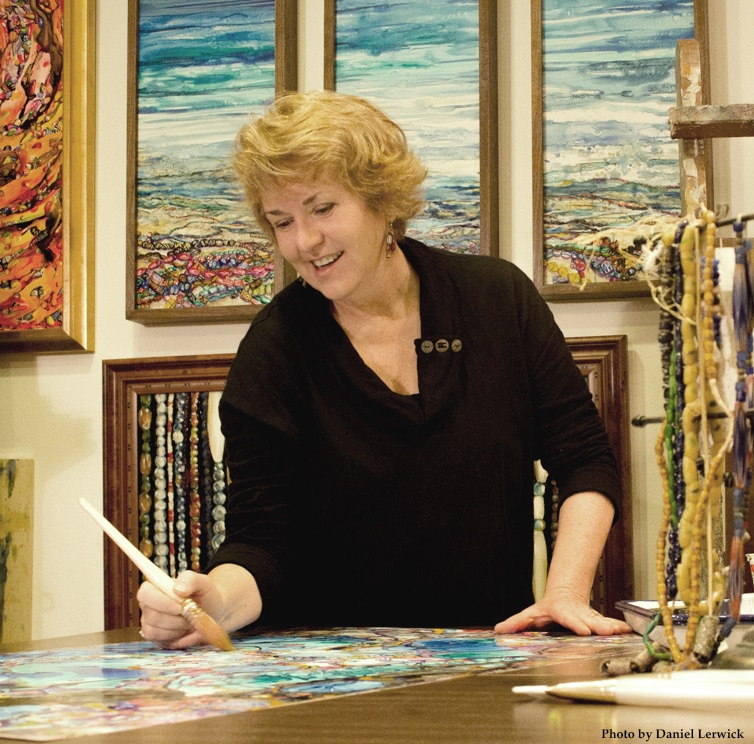 Bonnie Halsey-Dutton, PhD. Art History and Education
Dr. Bonnie Halsey-Dutton is a professional artist and fine arts educator. Her home and studio are located in the Black Hills of South Dakota in the United States, and that region inspires many of her paintings. Holding a doctorate in Art History and Education from the University of Arizona, Bonnie has expertise working with groups of individuals whose skill levels may vary from beginning to accomplished artists. Teaching and exhibiting nationally and internationally, her extensive travel experience is evident in her artwork. Regardless of subject matter, Bonnie's paintings incorporate lively color and a profusion of pattern. Being intrigued by physical objects that have been lost and again found throughout human history, Bonnie's most recent artwork utilizes trade beads as subject matter as she contemplates concepts of globalization and interconnection.
Although Bonnie specializes in watercolor, concepts introduced during this painting holiday are applicable to other water-based or drawing media. Her encouraging instructional style incorporates demonstration along with individualized tutoring. Acknowledging that the process of making art inherently involves taking creative risk, this workshop invites dialogue about embracing risk-taking as part of the creative process.
Bonnie states, "Giving myself the gift of time to mindfully create art within an inspirational part of the world prompts reflection upon how I might utilize the experience when I return home. I wish the same for participants in my workshops. They can expect to return home with artwork they created while visiting amazing locations, sketches and journal reflections recording their travel insights, photos taken that may inspire their art for years to come, and memories to last a lifetime!"
bhdutton@gmail.com
https://www.facebook.com/Artwork-By-Bonnie-Halsey-Dutton
https://www.facebook.com/AdultArtEducation
This painting holiday provides the opportunity to foster creativity while visiting extraordinary locations in the Dordogne and Lot regions of France. Participants are invited to embrace the rural French countryside through immersion in the sights, sounds, scents, and tastes of the region. The itinerary is broad and includes: walking in medieval villages, options to view and visit castles and chateaus, see authentic prehistoric cave paintings, shop outdoor markets, and view overlooks of wide vistas and fields of flowers. The daily excursions allow ample painting and journaling time (about 3-4 hours/day) as well as relaxed sightseeing. In addition, the Perigord Retreats facility offers acres of gardens, an indoor pool, and a fully equipped art studio that is available 24/7.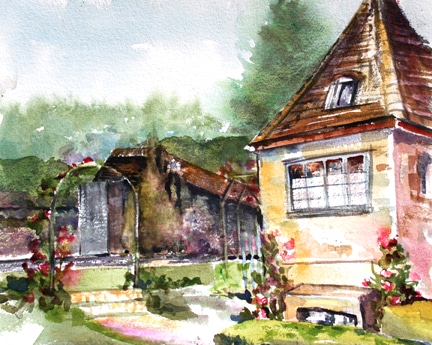 Included in pricing: Workshop tuition, airport transfers to and from Toulouse, 8 nights accommodation in a private room. Also included are chef-prepared gourmet meals (including all breakfast, lunch, dinner and picnics for day trips), local wines, and excursion transportation by experienced Perigord Retreat personnel. Because there are 11 sleeping rooms in total, enrollment in the workshop is comfortably limited to a small number of participants.
Excluded in pricing: Airfare/transport to Toulouse, travel insurance (required), and discretionary spending money.
Please email info@perigord-retreats.com for more information on prices and availability.
Supplies and Additional Information:
To aid in ease of travel, the supply list that is required is minimal and will be provided upon booking the workshop. Participants may bring additional water-based or drawing materials that they wish to work with. Plan to arrive for pick-up in Toulouse, France, by 10:00 am on Thursday, May 23rd, 2019 for pick up by Perigord Retreats staff. You will be returned to Toulouse for a mid-morning departure on Friday, May 31.
To reserve your place on the Bonnie Halsey-Dutton painting holiday, a deposit of 30% is required at the time of booking with the balance payable before 60 days of arrival.
Please complete this form for more information on this painting holiday