Bettine Flesseman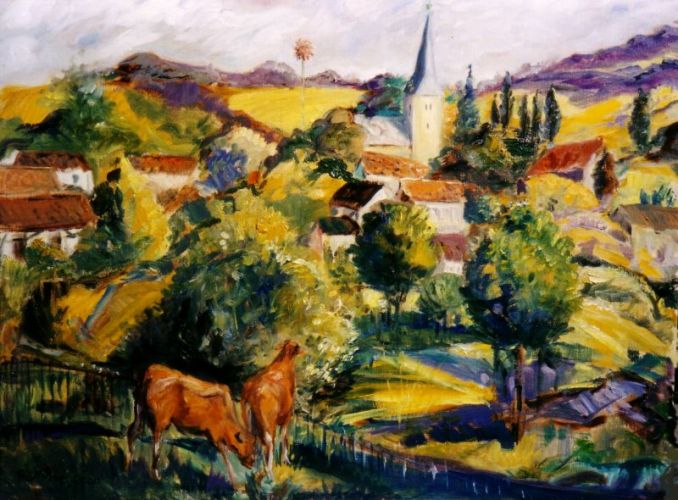 We are delighted to announce yet another painting holiday at Perigord Retreats with the amazing Bettine Flesseman.
Bettine was born in 1943 in Amsterdam where she started painting after having accomplished A-levels and University French language and literature.
Her grandfather was a painter by profession and her aunt was a famous painter of the Amsterdam "Joffers" school. Bettine got some private lessons and advice from her aunt but is in fact an autodidact.
In 1969 she left Holland to live in Portugal with her husband and 2 daughters. She lived in Portugal for 20 years, painting all the time and having yearly individual exhibitions in various galleries.
In 1981 she had a solo-exhibition in the Palàcio Foz in Lisbon. In 1983 she was elected to represent Portugal at the exhibition "Europe 2000 in the European Parliament in Strasbourg.
She is mentioned in the great art dictionary "Portuguese 20th Century Artist".
In 1989 Bettine went back to live in Holland where she has her own gallery and teaches art, oils, watercolours, acrylics, etc.. Bettine is specialised in portraits, but can handle any subject, having been a professional artist for over 40 years.
Your Holiday
After collection from Brive airport, you will be driven to Perigord Retreats on the border of the Dordogne and Lot regions. Unique in its position – complete peace and tranquillity is offered away from the bustle of everyday life. Spectacular views offered from every part of the houses and grounds and nature displayed at its best with flowers and shrubs in abundance.
Sleeping accommodation is very tasteful and has ample space and storage to satisfy your needs.  Crisp, fresh linen on every bed, traditional French solid wood furniture and a peaceful aura abounds in every room. We offer double, single and twin bedded rooms according to your requirements (subject to confirmation at time of booking).  There are terraces where you can sit and enjoy the sunrise, sunset or just the ambiance of the location.  We have a unique feature in offering a large indoor swimming pool.  It is housed in a superb building and is surrounded by glass doors which open to allow the warmth of the sun.
Workshop includes transfers to and from Brive airport, seven nights full board accommodation, all food and local wines, full use of dedicated studio 24/7, use of indoor swimming pool, expert tuition by Bettine and several excursions.
deposit of 30% required at the time of booking with the balance payable before 60 days of arrival. For more information, email us at info@perigord-retreats.com