Watercolor Sketchbook with Anne Kullaf 07 – 16 September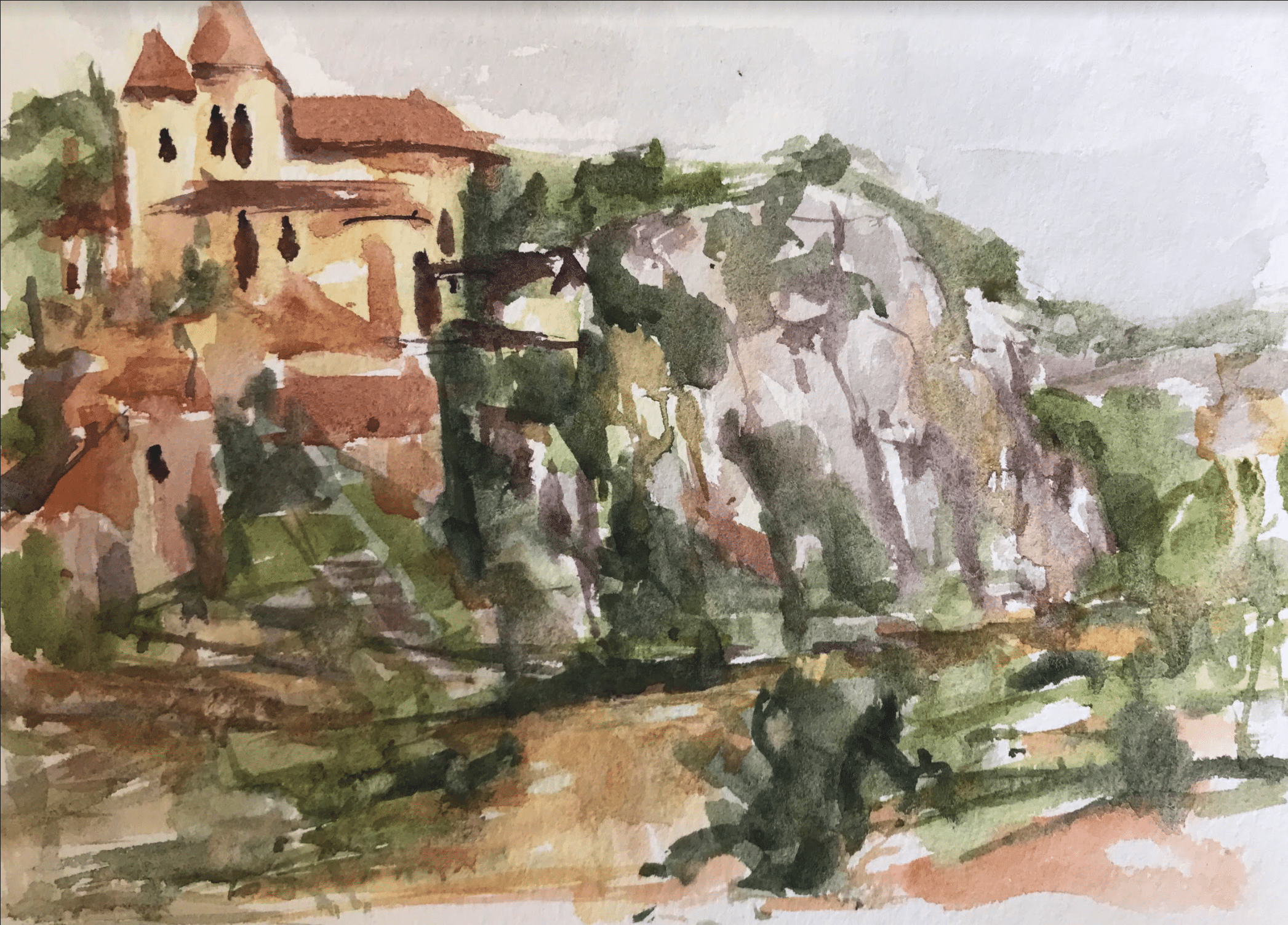 In the spring of 2018, I took a group of oil painters to Perigord Retreats. The experience was truly amazing and I am thrilled to be coming back in the fall of 2019 for TWO workshops.
The second workshop will be a Watercolor Sketchbook course (digital painters are equally welcome).  Sketching plein air in watercolor is one of the best ways to get to know the unique beauty of the landscape.  It allows you to study the architectural details of the buildings, the flora and fauna of the natural world, and to capture the overall essence of the magnificent landscape of the Perigord region.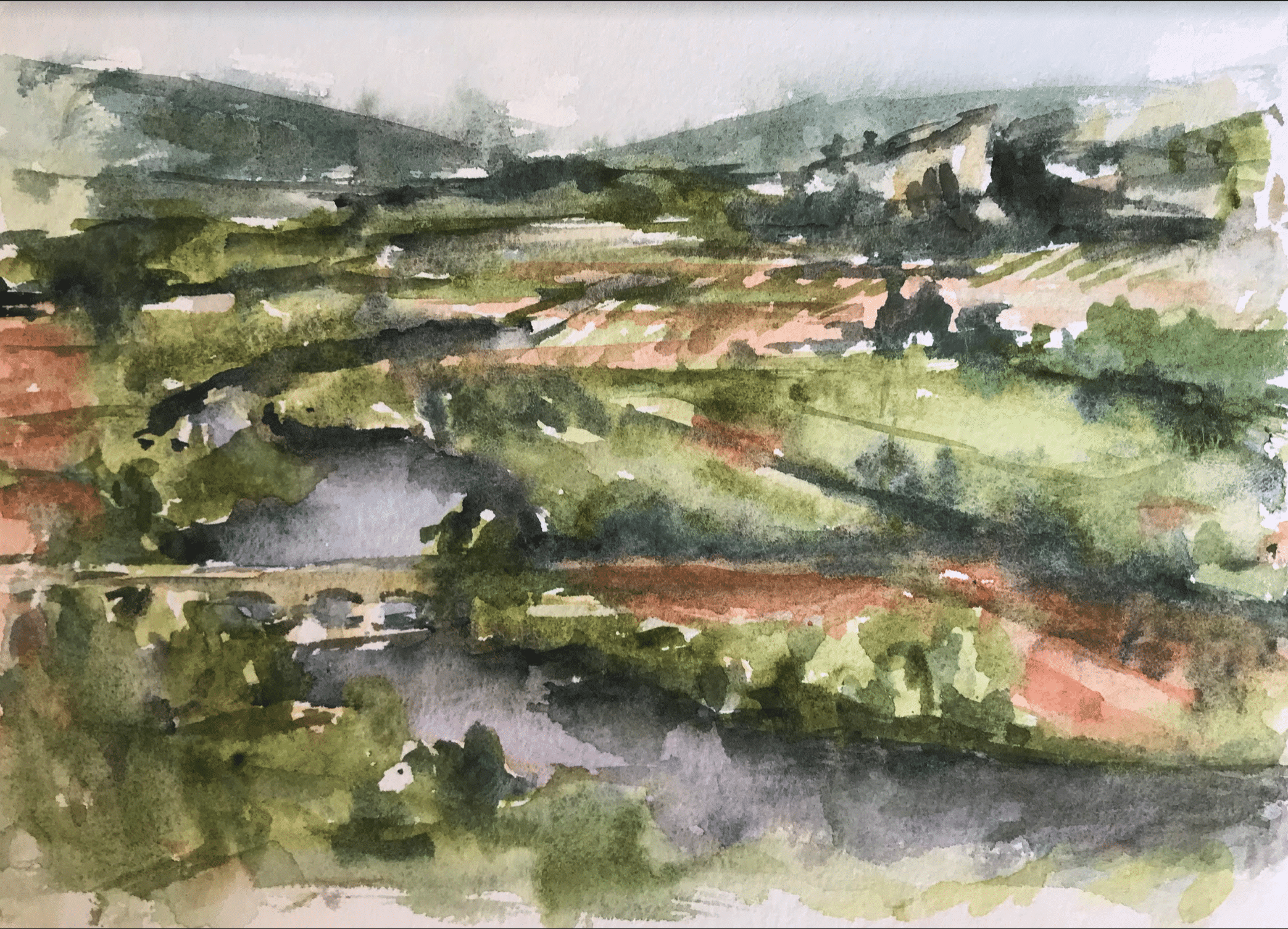 Watercolor is highly portable, easy to clean up, and you can find a spot to sit down and sketch in just about any location.  Your sketches can be used as inspiration when you get back to your studio to create larger works in any medium. All materials, including a custom mixed set of professional artist grade watercolor paints, brush and sketchbook will be provided.
Each day, we will visit places such as Rocamadour, St. Cirq Lapopie, Domme, and many others with breath taking views, narrow streets and fabulous architecture. If the weather does not cooperate, we have a fully equipped art studio where we can work using beautiful arrangements of flowers, food and local artifacts.  We can even just walk up the road to find fields, farm houses and pigeonierres.
I hope you will join me! All experience levels are welcome.
Please complete this form for more information on this painting holiday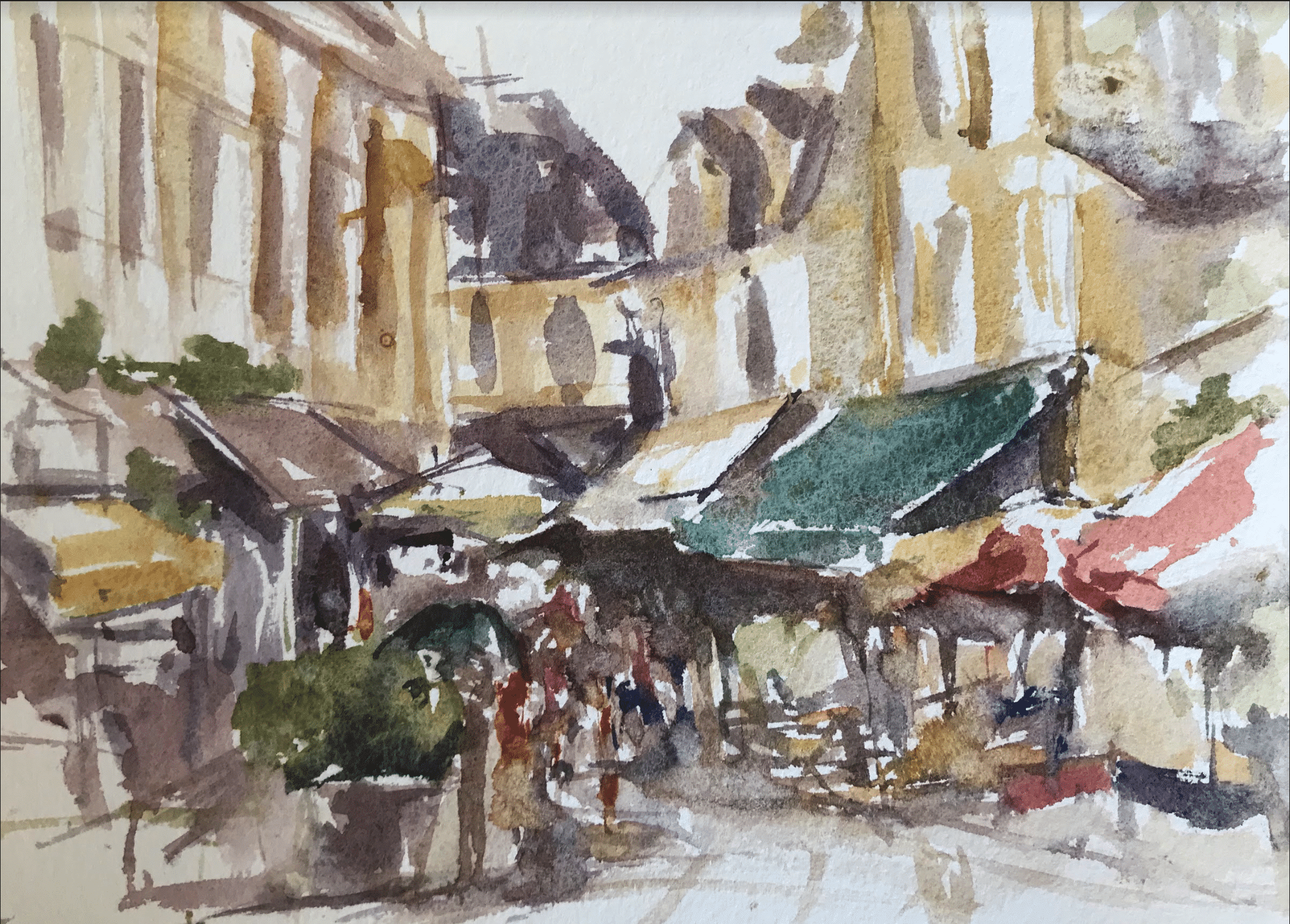 A Little Bit About Me, Your Mentor
I am a professional artist working in both watercolor and oils, I've taught drawing and painting in the NY Metro area for about 10 years at venues such as the Visual Arts Center of New Jersey, Princeton University Art Museum, Edward Hopper House, and as a Bryant Park Painter-in-Residence in NYC. I love sharing information about my process, techniques and the basics of drawing and painting that will build confidence and skill in the artists who study with me.  I will do daily demonstrations and work with everyone individually, I am there to teach and will do my best to ensure that everyone has all they need to learn and grow from the experience.
One thing I'd like to note especially for anyone who is afraid they aren't "ready" to take a workshop abroad.  Don't look at the workshop as something you need to return from with a series of masterpiece paintings.  A workshop is for learning, think of it as a way to get to know the place you are visiting and see it in a different way.  Your sketchbook is your own private book of memories about a beautiful place, each time you look at it, you will return to the stunning landscape of Perigord. While there, think of the sketching sessions as a way to connect with nature and your surroundings.  It's peaceful, meditative and good for the mind, body and spirit–don't be afraid to give it a try!
"Anne has a unique way of inspiring the group with her demos. She has taught me to enjoy painting, with her tips and advice I have developed my skills and take the best out of myself. "
"Anne uses  a variety of techniques and subjects to encourage the student (me) to explore and discover the  basics of good composition and beautiful color.
She has a relaxed teaching style and her demonstrations are relevant and inspiring."
"I've taken classes with Anne for years now and have always appreciated her ability to not only demonstrate the lesson for the day visually, but to also communicate and explain in a very concise manner so that the students "get it"."