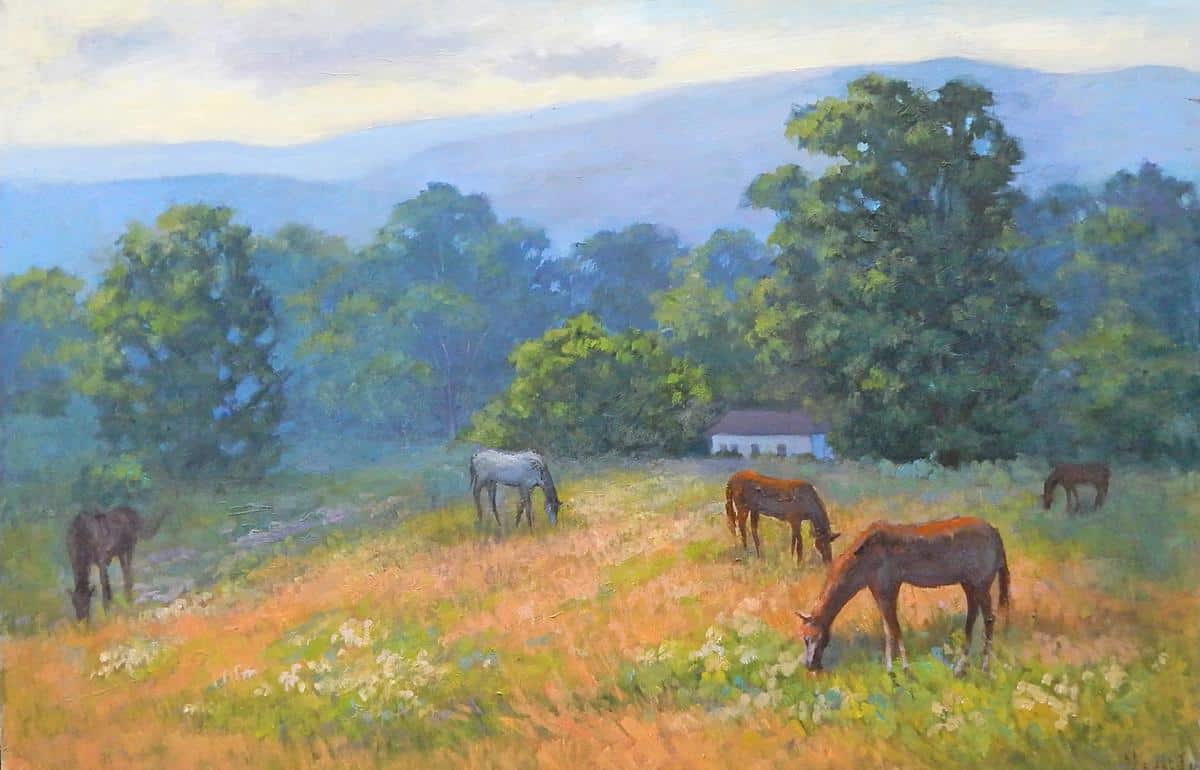 We are very pleased to announce Julia Lesnichy as one of our workshop hosts for June 2018.
About Julia Lesnichy
Whatever subject Julia Lesnichy investigates she often finds herself inspired by fast changing light and color in nature. She is captivated by the colors shes sees depending on the time of the day and season and resorts to oils and pastels to capture these fleeting moments. She often finishes her plein air paintings in her studio in Crozet, which is located in the quiet rural area in Virginia. Julia says that she literally lives in the woods, among the trees, with the tree tops hovering above the house. These trees have always served as a great resource of inspiration when they turn scarlet, bright yellow and glowing orange in the fall.
The place she lives now is so different from the ones she was born and grew up. Julia was born in the glorious city of Leningrad (now St.Petersburg) in the Soviet Union, but her parents moved to Moscow when she was only 8 months old. It was Moscow where she has lived since, spent her childhood and a large part of her adult life. As a child Julia was a diligent student focusing all her attention on science, foreign languages and music. She even thought about pursuing a career of a musician.
Though Julia was very enthusiastic about painting she could not make a final decision to become a full time artist. Only in 1998 Julia began taking private classes in drawing and oil painting in Russia.In 1999 Julia moved to Charlottesville with the family. In 2001 she was lucky to take a workshop with Lois Griffel, a nationally recognized plein air painter and instructor, who opened up a world of color for Julia. The experience she had during the workshop would forever guide her as a painter.
In 2002 she moved back to Russia, where she created around 200 works, many of which are in private collections. Also Julia developed her own technique in oil pastels and did a numerous oil pastel paintings there. Julia was introduced to the world of gouache and color mixing at the age of 5 and painted animals from photographs by 7. Unfortunately her parents paid little attention to her artistic endeavors. At the age of 26 she realized she wanted to become an artist. She was on her way home from work and was watching the sunset sky turning orange and red. She thought that it would be great to paint it. Immediately Julia asked her husband to buy a set of paints, brushes and canvases. She recalls her first paintings were the copies from the photos she had taken earlier.
In 2010 Julia moved to the USA with the family and settled down in Crozet in Virginia. Though Julia had taken up pastel as a medium before she returned to it again in 2011. She realized she could apply pastels boldly with swift painterly strokes creating layers of colors. Julia received her first award in pastels in 2012 and 14 more in the following 4 years, including two Honorable mentions in Pastel magazine 100 competitions and a Finalist in Artist's magazine 33rd competition in 2016. She is a member of Pastel Society of America, Midatlantic pastel society, Signature member of Northwest pastel society and Southeastern pastel society.
Julia has always been a patient and devoted student of nature. She is very perceptive to the spirit of the place she paints. Her emotional approach is shown in her works. Julia is very responsive to the way the light reveals the beauty of landscapes. Following these elusive changes she searches for a color palette which depends on the changing lights in a landscape.
She establishes initial shapes and then applies the paints generously with brushes and a palette knife. Intending to achieve a color vibrancy Julia creates multi-layered paintings both in oil and pastel. Occasionally she places people I her landscapes, especially her son. She continues to draw and paint models but intents on making a landscape a subject of painting.Julia has always admired Monet's skills to observe the effects of nature and depict them loosely, with thick application of colors. She is also immensely inspired by the works of Childe Hassam, Theodore Robinson, Henry Hensche and California impressionists.
Currently Julia is represented by Chasen galleries in Richmond, Va; Cabell gallery in Lexington, Va and Coart Gallery in Staunton, Va. She lives with her family in Crozet in Virginia.
Your Experience Perigord Retreats
This painting holiday with Julia Lesnichy will blend both the natural and human history of the Lot and Dordogne regions of France. We will visit some of the most popular touristic areas including Sarlat-la-Canèda or La Roque-Gageac. Our guides have some hidden gems to show you too. Whether that be some beautiful countryside spots for plein air painting or some of the traditional farms and villages to really see the 'real' side of the region; our guides have the knowledge to fulfil your needs.
Our chefs strive to provide you with the highest quality of food possible including a vast majority of organic fruit and vegetables. We try to keep our meals as traditional to the region as possible and very seasonal, which means if you return at a different time of year you're likely to have a completely different experience. Different flowers flowering, different food to enjoy. On the other hand, the weather is usually beautiful from May to October.
For more information or to book your unique painting holiday in the Dordogne and Lot regions, email us at: info@perigord-retreats.com